SUPER SLAM DUNK TOUCHDOWN
2D Animation, 2D Game Art
Super Slam Dunk Touchdown, is a retro-style 2D multiplayer sports game developed and published by indie game developer Tipping Goat. Combining elements of American football, basketball, hockey, soccer, baseball and roller derby, the game offers a team-based all-sports mashup driven by a 3D physics engine. Players assemble a crack squad of different sports athletes and use their unique shot styles and abilities to score goal units and demolish the opposing team.
I was commissioned to create and animate a variety of 2D art assets for the game, adhering to an 8-bit pixel art style reminiscent of early Nintendo games. All art was created with Adobe Photoshop.
One of my bigger tasks was designing the four different playing fields: turf, ice rink, basketball court and street court. Each setting included a floor tile, center and goal line overlays, and unique background sprites cut into layers and assembled in Unity for proper overlapping.
In addition to the background art, I cleaned up and re-animated several existing player sprites, including new run cycles for the soccer and basketball players and a new idle animation for the football player. Additional player sprites were checked for consistency in highlights and shadows between frames of animations.
I also drew and animated other in-game art assets, including the soccer/football/basketball hybrid goal, miscellaneous floor sprites, and trophy images for rewarding players.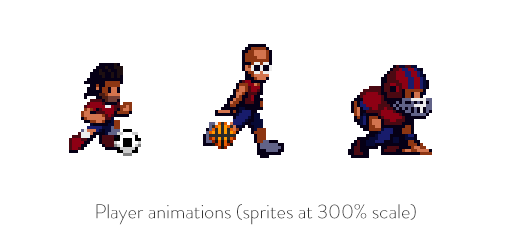 Lastly, the developer commissioned me to design a t-shirt graphic to promote the game. The shirt was given to backers of the game's Kickstarter campaign, and also given away during promotional events at GDC, PAX South, ID@Xbox and PAX West.
Super Slam Dunk Touchdown was released for Windows (Steam and Humble stores) and NVIDIA SHIELD Android TV.
For more info on Super Slam Dunk Touchdown, visit the game's developer page.
All images and media © Tipping Goat, LLC.